And here is part two. That bothersome Bass solo!
The Penthouse project.
A UNIQUE learning opportunity.
My new bands' songs, broken apart for you to learn composition, writing and musicianship skills.
Learn unique and original riffs from myself, and more importantly, why I write those specific riffs to the music being played.  In some instances I write the main part to the song, and sometimes it comes from jamming.  This will all be explained in the videos!
So, how does it work?
Well, Penthouse is a band that covers many styles and genres of music. So the lessons featured here should interest a wide variety of musicians. Typically, each "Piece of music" is around ten minutes long, with lots of interesting changes. Each piece describes a situation from my cartoon towers block, 'The Towers'.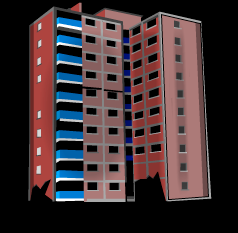 We will go through the songs, part by part, and I will teach you what I am playing for that part.  Whilst I'm teaching you, I'm explaining WHY I am playing those parts.
All in all, I'm hoping that this will be a really educational experience for my online (and off!) students. I have been writing music and Bass lines since 1993, and have lots of experience I can share.
Why am I doing this?
Well, I've been teaching Bass guitar online for a few years now. Although thousands and thousands of people have benefit from these lessons, I wanted to start teaching something with a more practical matter concerning being in a band, and writing lines.
What shall I play here? Why would I play it? How shall I play it? All these questions will hopefully be answered when I break apart these Bass lines.  I'll also be covering issues like overplaying, specific techniques for specific genres as well.
Ok, here is the first song you will be learning:
And here is the video how to play it: